Football is an extremely popular sport in England and is often referred to as the national sport. It is deeply ingrained in English culture and has a long and rich history in the country. Becoming a football referee in England is a challenging job. Participating in the sport and officiating football games can also be fulfilling and rewarding experiences for referees in England.
Advantages to be a football referee in England.
Stay involved in the game
As a football referee, you will have the opportunity to stay involved in the sport you love, even if you are no longer able to play at a high level. Refereeing can provide a way to stay connected to the game and be a part of the football community.
Develop transferable skills
Refereeing can help you develop a range of transferable skills, such as decision-making, communication, leadership, and conflict resolution, which can be valuable in many other areas of your life.
Refereeing can be a paid job, with referees at higher levels receiving competitive salaries. This can be a great way to earn money while doing something you enjoy.
Refereeing can be physically demanding, and it can be a great way to stay fit and active. Referees must be able to keep up with the pace of the game and make quick decisions while running and changing direction.
Refereeing can be a career pathway, with opportunities to progress to higher levels and officiate at professional games. This can be a great way to advance in your career and achieve your goals.
How to become a football referee in England?
To become a soccer referee in England, you must be at least 14 years old and a resident of England. If you meet the criteria, you can join the course offered by the Football Association of England to become the referee.
Steps you can take to become a football referee in England.
Visit the FA website: Go to the official website of The Football Association (www.thefa.com) and click on "Get Involved" at the top of the page.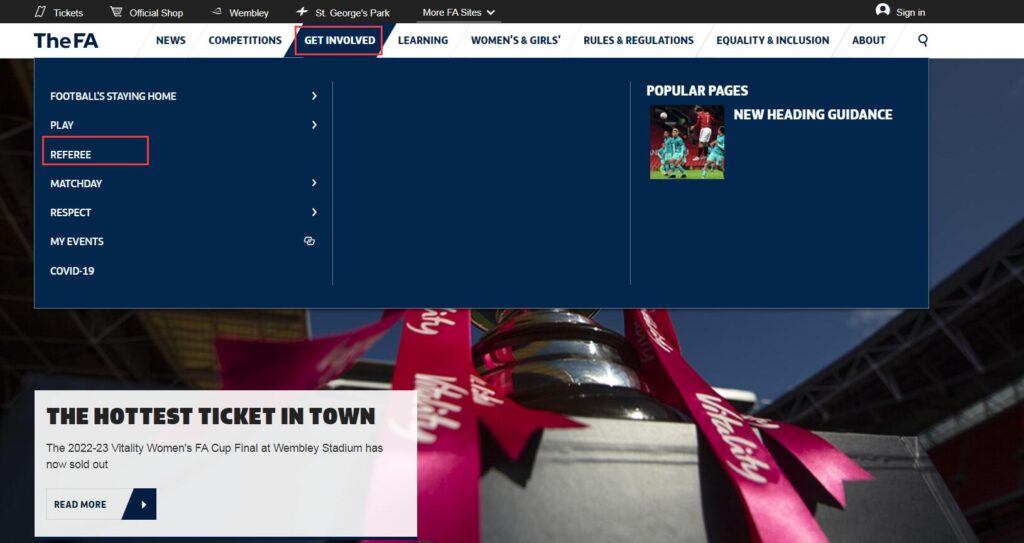 Click on "Referees": From the drop-down menu, select "Referees" and then click on "Becoming a Referee."
Once you click on "Referees", it will link to this page https://www.englandfootball.com/participate/referees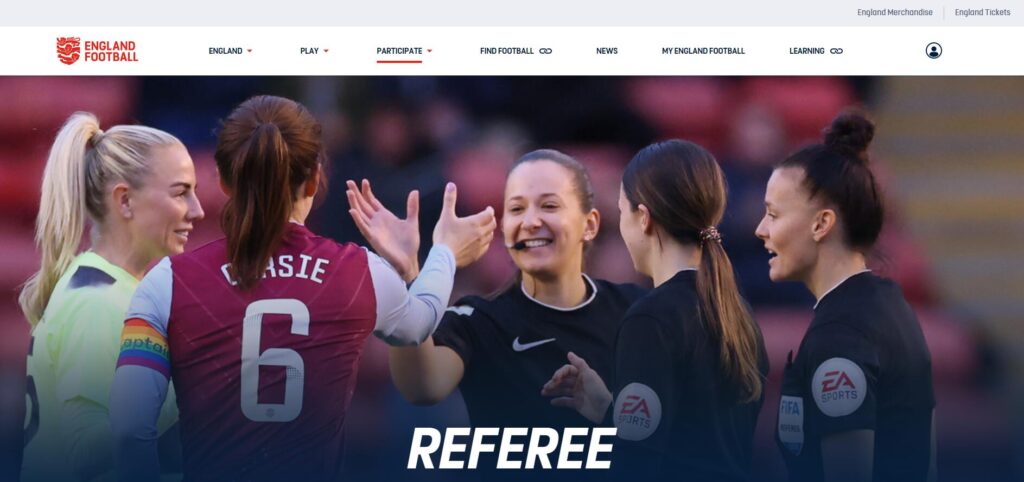 Find a course: Scroll down the page to find the section titled "COURSES" and click it. You will be redirected to the "FA Referee Course" page.

Register yourself and Select a course: On the "Referee Course Finder" page, you can search for courses by location, date, and level. Select the course that best suits your needs and click on "Book Now" to register.
Complete the course: Once you have registered for a course, you will receive information on the dates, times, and locations of the course. Attend the course and complete all of the required training and assessments.
Register with your local County Football Association (CFA): Once you've completed the course and passed the background check(criminal background check), you'll need to register with your local CFA. They will provide you with information on how to become a registered referee in your area. After you've registered as a referee, you can start officiating matches. You can begin with youth games or lower-level adult leagues, and work your way up as you gain experience.
List of the County Football Associations in England and their official websites: